Celebrating Our Magic Toolkit // Northwest Portland American Indian Health Board
I really enjoyed this project! It was a fun challenge to take a large print document and bring it to life with color, layout, and infographics. Additionally, I learned a lot about a topic I previously knew very little about!
When I started this project we brainstormed a few different color schemes and styles, and while working with toolkit team we narrowed down the feeling we wanted to convey. This is meant to be a helpful resource to a variety of people, so it was a main priority to make it feel accessible, and I think we achieved that!
I am so grateful for the opportunity to work on this project. To view and download the entire toolkit, visit NPAIHB's website!
Social Innovators Academy Framework // GivingPoint
This framework for GivingPoint's Social Innovators Academy (SIA) has been a team effort and a labor of love! What started as a loose idea to compile all of our workshops into one document ended as a 196-page framework for teachers, facilitators, and students to participate in the SIA program. The framework features 14 workshops, guides, activities, and related supplemental materials.
Our team has worked on this framework for the better part of a year. While it has been a privilege to design it, I am also grateful to have been included in the writing and editing stages, as well as having been present for all the workshop implementations. It makes it all the more satisfying to see the final product!
Collaboration Project // class project
For this project we were paired with a commercial photography student and we had to plan/photograph/design an entire spread. A lot of people did food. Some did fashion. I did office supplies (😍). I was inspired by Real Simple magazine's clean and bright style, and I was so excited to get to showcase my all-time favorite aqua office supplies from Poppin (which are just perfection). Honestly, this was one of my favorite projects of my college career. Just so fun!
For our second spread, we went a little more dramatic. I love the way the lighting makes the gold and turquoise stand out so starkly against the black background, and I really love the contrast of the wooden branch and the shiny jewelry! This was much more difficult to shoot, so shoutout to my partner, Elizabeth, for her dedication. (you can't see if, but we attached fishing wire to the turtle necklace and I'm off on the side holding it in an attempt to keep the turtle facing the camera haha #truestory).
This project proved challenging because we were responsible for every single aspect. It was also interesting to work with someone so closely, and to be so reliant on them in order to do your part of the project. Finding a shared creative vision can be tough, but is extra rewarding when you produce something that you both love!
Red Eye // class project
Red Eye is a sister publication to the Chicago Tribune, which is aimed at an audience of 18-34 year olds. Having this specific of an audience was a cool opportunity to do something a little bit more "fresh" than a traditional publication. Again we were given some of the real stories, but the twist was that these were upcoming Red Eye stories, meaning our designs could be potentially chosen for actual use in an upcoming publication. How cool! Mine did not win, but it is still so cool to see my classmates' work published IRL!
My original vision for these drinks was a cubism-esque style, which honestly didn't even look as good as I hoped, and also took forever to do. So, back at square one, I took everything down a notch and went back to a basic, flat design, which is something I enjoy doing (and like to believe I am relatively good at). The graphics, with simple typography, convey the story in a straighforward, but fresh, way. Cheers to that!
Old House Journal // class project
For my design class we worked with ___ from Old House Journal to create our own spread from a selection of stories, while understanding and utilizing OHJ's brand standards. We had no lack of inspiration: OHJ is a well-designed publication with distinctive styling and hand-lettered elements.
I had to choose the "Doors" story from a variety of options, and from there I had to edit the selection of photos and content to fit my spread. Working from the style guide, I decided the ordering and layout of all the spreads. Additionally, I created hand-drawn type and then digitized it in Illustrator for the opening page, also using elements throughout the story. This was a fun project to challenge myself in working within a style while adding my own flair.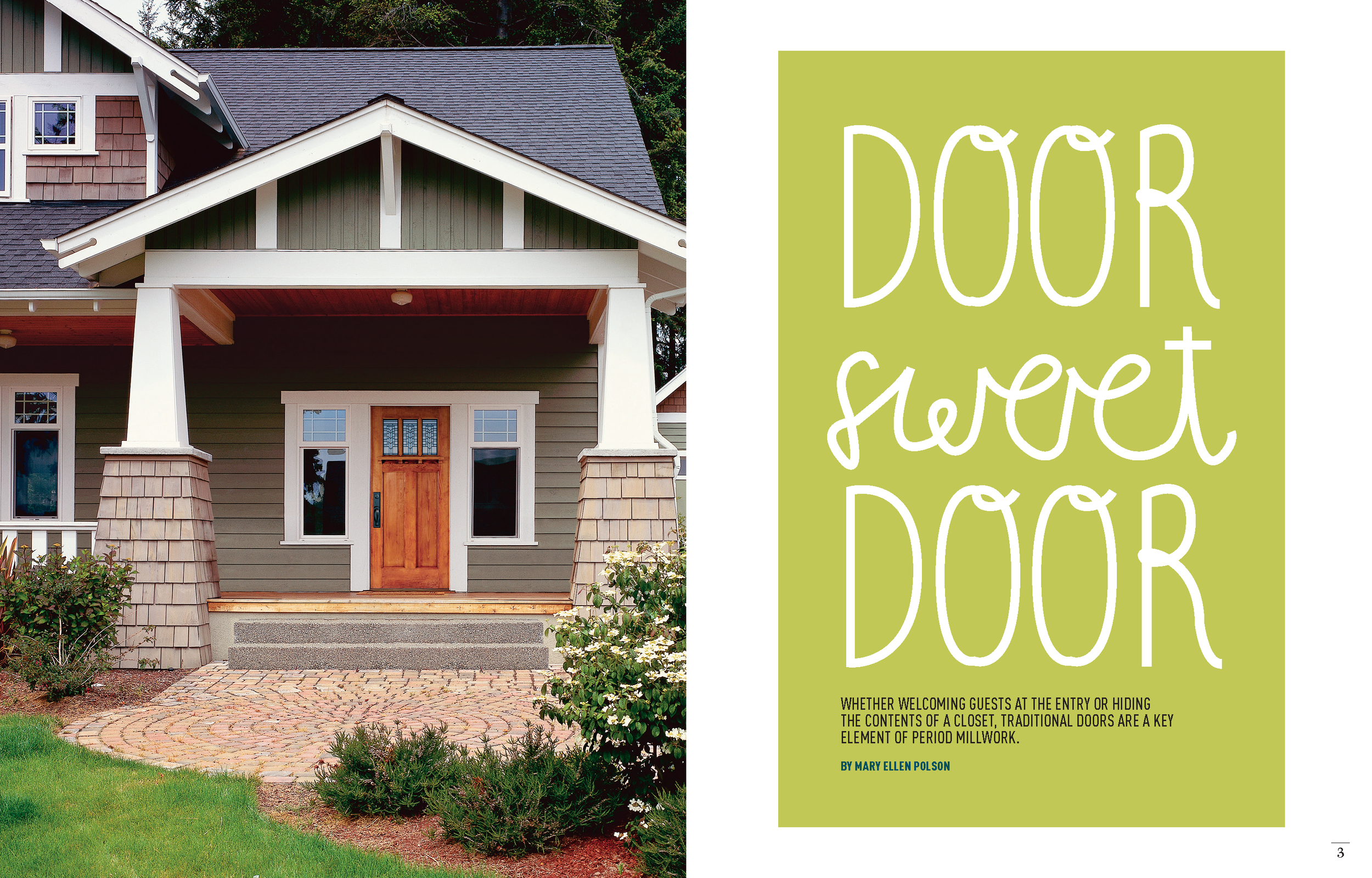 Scottsdale Repbulic // class project
This assignment was supposed to challenge us to take a simple topic and create an engaging image. The stories were given to us and we had to choose from the enthralling subjects such as historic rainfall, architecture, sex education in schools, etc. We had two "out-of-the-box" ideas and one "straightforward" idea, which was simply strategically laying text over a photo.
The flooding and the sex-ed stories were my "creative" interpretations, and the architecture story was the more basic, photo-and-text spread. I had a list of projects to choose from and went through numerous iterations of my creative ideas. This was a balance of knowing when to add more versus when to let minimalism shine. Working with a broad family of typefaces to create contrast yet consistency was another tough moment, but it is a good kind of challenge.